The King is Alive - Apparently
01/11/12 15:14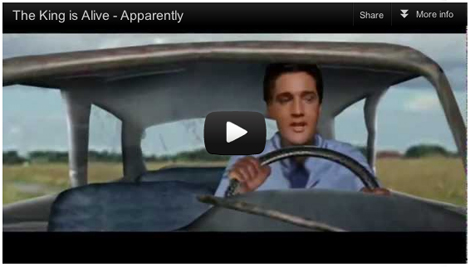 Ok, it has taken a long time to put my latest creation together,
The King Is Alive - Apparentley
! It is a music video for my song
Now or Never II
. The whole track is based on samples from
Elvis Presley
songs that I have pitched and stretched to fit my song. More on that in a future post.

The story is about Elvis driving around in an old
Citroën DS
, and flashbacks emerges from his performances and films. Theses clips suddenly freezes, and the camera starts to move within the three-dimensional space.
Originally, the video was supposed to be an animated collage of Elvis. This proved to be quite difficult to do in an entertaining way, so I completed it all with animations created in
SketchUp
. With the
Photo Match
function, two-dimensional photos can be animated like they where three-dimensional. The technique is quite primitive and is reminiscent of the 3D technology's early days, such as
Kraftwerk - Music Non Stop
developed 1983-86.
Anyway, to digitally recreate historical figures such as Elvis seems to be in fashion: the Iron Sky director
Timo Vourensola
is right now working on the new feature film
I Killed Adolf Hitler
, where
dictator shows up in computer-animated form.

I have sent the film to the
Swedish Television
's short film editors in the hope that they would like to view it. Unfortunately, it was refused. Their answer contains some encouraging words, but a no is a no. Hope it's ok for Helena Ingelsten, SVT that I reproduce the letter here:


Hey Bo,
Thanks for your short film The King is alive - apparently.
It is an exciting and ambitious film, but we receive a large number of films every year and unfortunately it's a small portion that goes to purchasing. So we must say no to buy, despite the qualities we find in it. We hope that you find other ways to spread just this film and do not get discouraged by our situation.


Of course it would have been awesome to have it shown at
SVT
, but I am still satisfied by the fact that I've fulfilled the project from beginning to end!