Surfin' the radio waves
27/09/14 17:49
Visiting
Radiogodis.se
is like traveling back in time. Recorded radio shows from the 1930's and onwards are uploaded in full, and the 80's shows
Tracks, Metropol, Eldorado
and
Rakt över disc
catches my intrest in particular.
Just hearing the signature songs gives me goosebumps. Some of them have even influential orginators.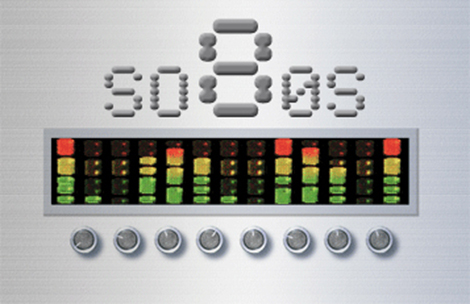 Radiogodis featuring radio shows from the eighties. The logo is inspired from the
So 80's collection
.
Kaj Kindwall
led us thru the iconic pop count down show
Tracks
. He was the guy who kept a whole generation updated on music from the hit lists all over the world. The signature tune was written by
Michael B Tretow
, the music engineer that shaped the sound for
ABBA
. When I first heard the intro of Tracks in
1984
, I was totally blown away.
So modern, so cool!
Eldorado
was the crazy show without a clear direction. The host
Kjell Alinge
probably improvised the whole thing and it was all high and low. The intro tune was produced by
Rupert Hine.
He is not very well known except his 1982 hit
The Set Up
, but his productions for
Howard Jones, Thompson Twins, Bob Geldof, Suzanne Vega
and
Underworld
were probably crucial for their successes in their heydays.
One of my all time favorite radio shows was
Metropol
.
Niclas Levy
and
Ingvar Storm
guided us thru contemporary topics in music, fashion, culture and politics.
Spanarna
and
Göte Johansson
was two of the recurrent elements i remember the most.
Spanarna
is still going strong, and they recently won the
Rose dÓr
award!
The signature tune of
Metropol
was performed by
Adolphson-Falk
. They are most known for the minimalistic
Blinkar blå
( Laurie Anderson's
O Superman
meets Phil Collins'
In the air tonight
) and
Mer jul
, one of Sweden's most well known Christmas songs. The song features a sound collage from Christmas TV shows and recordings, probably influenced later swedish Christmas songs like
Triad's Tänd ett ljus
and
Just D's Juligen.Rakt över disc
was a show playing the most popular dance hits during summer time. Hosted by musician and dj
Claes "Clabbe" af Geierstam
it was the show that got the party started! But I didn't have time to party. I was too buzy pressing play-rec on my cassette recorder. To crop the music from Clabbe's nonsence gibberish was almost an impossible mission, since he was talking in the start, middle and everywhere in the songs.
30 years on, listening to the shows at
Radiogodis.se
in it's full context, all his nonsense rap n' gag is the best part of it all!